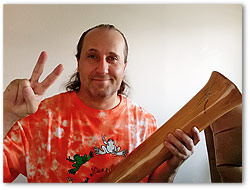 The time has come… the sleepless nights are over… are you ready to find out who the winner of the superb quality Stix Didgeridoo is?…
The hugest congratulations go to Chris from Washington State, USA!
Chris is now the proudest owner of a superb Stix Didgeridoo!
"I'm sending out a very special HowdeeDoodleeDoo to all my fellow didgeheads… why you might ask??? Because I'm the PROUD WINNER OF THE STIX DIDGE DRAWING…. I'm here to tell ya I about crapped my pants when I heard I won this little gem… I'M SOOOOO STOKED!!!!!
Man this baby practically plays itself… it's sooooo responsive and effortless to play… it's like being with an intimate lover, you just kinda become one with it… there are NO words that can do this bad boy justice… you have to play it yourself to Really Truly Appreciate This Work Of Art… simply put… it's "FRICKIN AWESOME"!!!
Thanks DidgeBreath Crew… from the VERY Proud Winner Of The STIX Drawing
Chris Williamson – Washington State, USA"